M&S Systems Music and Sound Intercom Systems
M&S Systems for Commercial and Residential:
Are you looking for an intercom system for your home, office, or business so you can feel safe and secure? Or maybe you are looking for an intercom with voice, music, video and a door unlocking feature for full security. Look no more! We have an intercom system to meet your specific needs. ESecurity Alarm Systems offers the best selections of intercoms for residential or commercial applications. With over 20 years of intercom installation experience, we only sell what we can stand behind and we offer installation tech support for all our products.  M&S Intercom Manuals, M&S Installation Guides and Do-it-Yourself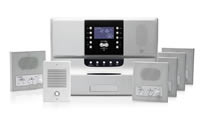 Information for researching M&S intercom systems, replacing an existing system or finding technical assistance. For over two decades, ESecurity Alarm Systems has been helping customers just like you find, replace or repair intercoms, or locate intercom parts. Whether you have or want a home intercom system – or a commercial intercom system – we'll have the information that you need to make the best decision. We also offer Intercoms with two way audio and video in one versatile application.
Most homes are equipped with an intercom system which enables the homeowner to have whole house music and two way communication from one room station to the other. This system is also connected to a door bell which conveniently enables two way conversations from any room station in the home. E.Security Alarm Systems has partnered with Linear, M&S who manufactured the award winning DMC1 and DMC 3-4 retrofit system. The DMC1 is equipped to operate using category 5 cables and is primarily installed under a new construction environment. Most businesses installed the DMC1 such as in a doctors or dentist office for serene relaxing music throughout. In the event a two-way conversation or an announcement is needed, that can easily be accomplished from any room station in the office. In a residential environment, the same benefits exist however the system is connected to a door bell and visitors can be screen from any room station.
M&S Systems and Linear Technologies have out done the competition by inventing the i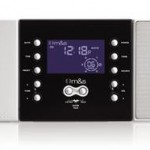 ndustry first retro-fit-able and adaptable intercom systems called the DMC 3-4.  The Model dmc3-4 Music/Communication Retrofit System Master (White) is a full-function intercom and music distribution system designed for retrofit applications in residential use. The master unit can replace older intercom systems that use three-wire or four-wire connections to the room stations. The system supports up to 15 room stations and up to three door speakers. The built-in AM/FM radio tuner allows setting eight AM station presets and eight FM station presets. The backlit liquid crystal display shows the operation mode, audio source, radio frequency, volume setting, and time. With the optional Model dmc1CD Add-on 6-disc CD changer installed, the display shows the disc number selected and the track number currently playing.
Room stations have pushbuttons that control the system operation. Retrofit room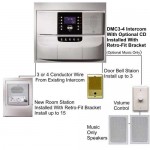 and patio stations connect to the master unit using the installation's existing wiring. All room station models can select talk or listen to other room stations, door speakers and the master unit. Each has an intercom volume control. The Model dmc3RS or dmc4rs room stations and dmc3RW or dmc4RW patio stations can select the audio source, control the radio tuner, and set the master music volume.
With the addition of the optional Model MC960PA Remote Power Amplifier, stereo music can be distributed from the master unit through up to 30 pairs of in-ceiling or in-wall speakers. For access control, the optional Model DRW Door Release Mechanism can be installed and activated from the master unit or room stations. The optional three-note Model MC3 or eight-note Model MC8 chime modules provide a selection of door chime sounds.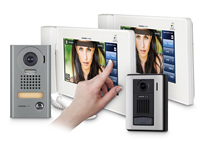 For master unit rough in and finish-out components order the Model dmc1H Wall Housing Kit to mount the dmc3-4 master. If the optional Model dmc1CD Add-on CD Changer is used, order the dmc1HC CD Combination Wall Housing Kit. For the retrofit frames, follow this guide:
When replacing a master only system with a dmc3-4 master use a Model dmcFM Master Retrofit Mounting Frame.
When replacing a combination system with a dmc3-4 and dmc1CD combination system use a Model dmcFC Combination Retrofit Mounting Frame.
When replacing a master only system with a dmc3-4 and dmc1CD combination system use a Model dmc1F Combination Mounting Frame. Note: This type of retrofit will require the hole in the wall to be made larger.
For all retrofit indoor room stations use a Model dmcFR Room Station Retrofit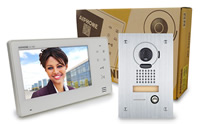 Mounting Frame (available in white, almond, and black).
For all outdoor or high sun area flush-mount retrofit patio stations use a Model dmcFRW Patio Station Retrofit Mounting Frame
For all outdoor surface-mount patio stations use a Model dmc1HRWS Surface-mount Rough-in Enclosure
For NuTone door speaker replacements use Model dmcFD Door Speaker Retrofit Mounting Frame (not required when replacing old style M&S door speakers).
NOTE: All room stations, patio stations, and door speakers must be replaced when installing a dmc3-4 retrofit system. 

Features:
o White, Bisque, Black faceplate color
o Retrofit for 3 and 4-wire intercom systems
o Supports up to 15 room stations
o Supports up to 3 door speakers
o 30 Watts (RMS) maximum output power
o Two music source inputs
o Eight AM and eight FM radio station tuner presets
o Stereo upgrade with optional power amplifier
o Remote volume and source control from room stations
o Intercom only and door release features
o Programmable monitor override
o Automatic on/off feature
o Optional three-note and eight-note door chime
o Optional IPOD Jack.